Covert Emotional Abuse: You are not Crazy
4/21/2022 - 4/21/2040
self-paced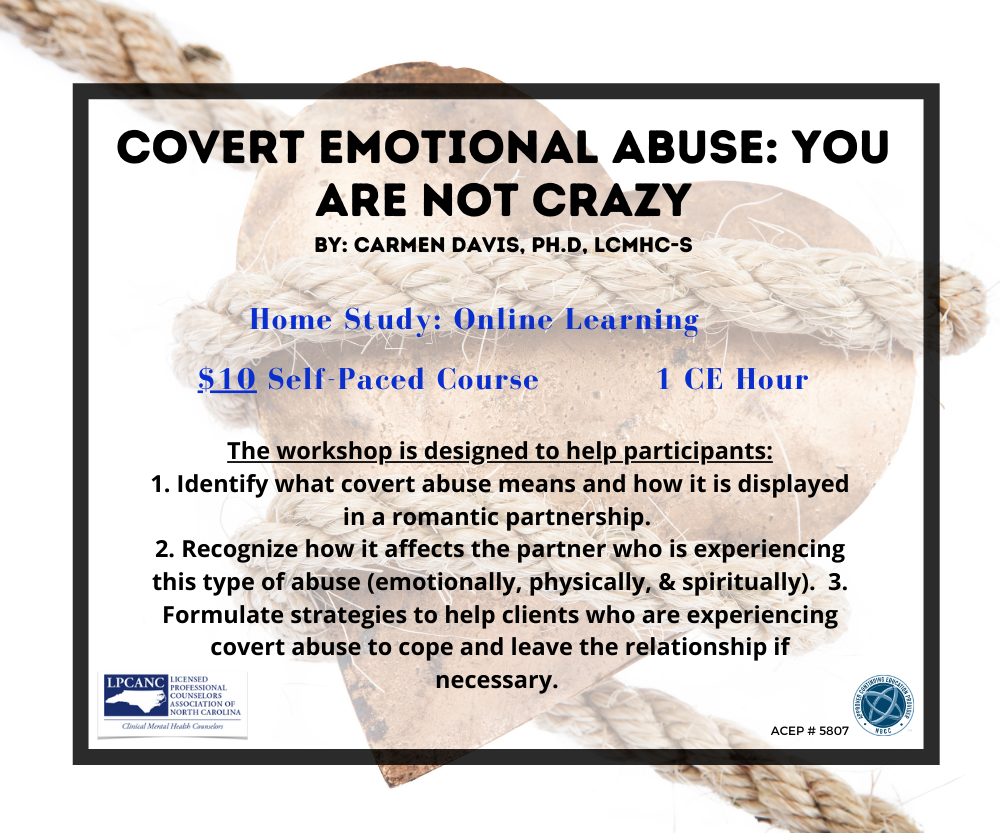 Home Study Course: Online Learning

EVENT:
The workshop is designed to help participants:
1. Identify what covert abuse means and how it is displayed in a romantic partnership.
2. Recognize how it affects the partner who is experiencing this type of abuse (emotionally, physically, & spiritually).
3. Formulate strategies to help clients who are experiencing covert abuse to cope and leave the relationship if necessary.
PRESENTER:

Dr. Carmen Davis Ph.D., LCMHC-S and President 2022 & Conference Committee Chair 2022 has spent the last twenty-four years serving her community as a clinical mental health counselor, clinical supervisor, and professor. She has a wide array of experience working with individuals, children, and their families with their emotional, and mental health concerns. Dr. Davis has worked in a variety of settings to include a domestic violence shelter, community mental health, intensive in-home therapeutic services, the foster care system, social services, the Department of Defense and now in private practice. Additionally, Dr. Davis provides clinical supervision to new counselors working on their full licensure. Dr. Davis uses a developmental approach when working with her supervisees in order to provide the best guidance that empowers them to become competent counselors. Dr. Davis teaches master's level counseling at the following universities: Capella University and Liberty University. She teaches human development and women's studies courses at The University of California East Bay. Teaching the next generation of professional helpers is a passion for her! Dr. Davis is currently serving in an advocacy role as president-elect for the Licensed Clinical Counselors of North Carolina (LCCNC). In 2022, she will become president of this state organization. Dr. Davis is married to a retired Major of the United States Army and has three children ranging in ages from 12-21. Her time as a military spouse was very special for her and her family and the concerns of military personnel, Veterans, and their families is of high importance.

PROVIDER INFORMATION:
LCCNC
605 N. Terrace Place
Morganton, NC 28655
(919) 714-9025
info@lpcanc.org
www.lccnc.org
return to Licensed Clinical Counselors of North Carolina